James Lavott Art Collections
Shop for artwork from James Lavott based on themed collections. Each image may be purchased as a canvas print, framed print, metal print, and more! Every purchase comes with a 30-day money-back guarantee.
About James Lavott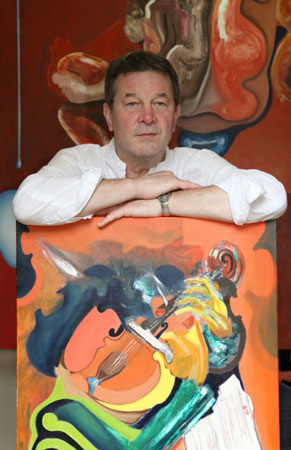 I am a self taught artist based in Cheshire UK, where I now spend time in my studio searching to create a unique style of artistic representation of many and varied subjects. The search isn't over, and I suspect it never will be, as the variety of styles in my work will bear out; ranging from realism through to abstract.

In earlier works I produced a series of paintings known as The Bar Scenes. The style in these pieces is semi figurative, almost abstract with overtones of realism. The works are inspired by the hustle and bustle that usually accompanies dining out at Wine Bars or Restaurants. Dining out is usually a very pleasurable experience that consists of a myriad of external influences firing our senses, the clatter and chink of glasses, crockery and cutlery, the smells sights and sounds. Our attention may be focused intently on a partner, in which case the ambience affects us subliminally, or specific observations can focus our attentions more directly

The scenes within the series of paintings are constructed from a number of sketches and ideas that are transferred to the canvas. A technique of layered pallet knife application, and more often than not removal of one or more layers of oils, develops the vibrancy and movement. Specific areas of focus are developed using brush work which, in contrast to the knife application, helps create the subliminal and focussed experiences. Regardless of the subject matter, the artwork remains fluid and seeks to present things as they are experienced rather than viewed.

Surreal art presents us with, more often than not, a very real depiction of subject matter with objects and images in an out of context environment. In the 4 years dedicated to the search, several pieces have been produced in this style; heavily influenced by the grand master of surrealism, Salvador Dali

I have produced various portraits of close family, friends and celebrities in two distinctive styles, namely realism and mosaic. These two styles lend themselves naturally to portraits as they not only allow the unique colours and tones of the subject to be presented but also artistic license that to present shapes and colours that sit behind the physical representation thus incorporating what is felt as well as what is seen, especially depicted in the mosaic style that lends itself perfectly to the chiselled features of a rugby player! This does not however ensure the magic of a portrait is complete, the piece must capture the spirit of the subject, and that's the challenge See my profile picture as an example of the mosaic portrait style.

There are occasions when the seriousness of art can be put to one side to allow the fun of letting the pen or pencil to do the work, doodling.Sometimes a doodle needs to be taken a little more seriously, by committing it to oils on canvas. These occasions have been captured in a series known affectionately as The Misfits. These pieces all started life as idle moments I have spent with a pen and a piece of paper doodling, only later realising the potential of representing them in oils on canvas.

I sincerely hope you enjoy viewing my selection of images. If you have any questions about my art or wish to order a print or original please do so at Art Gallery or indeed do not hesitate to contact me if you require additional information.

Lavott art has been inspired by many artists, Picasso, Caravaggio, Bacon, Dali to name but a few. You may well see the influences should you decide to browse the Galleries.